Phoenix, Arizona monsoons ruffling through the treetops
Monsoons Are Here!
It is a relief after the heat and dryness of June to get some July weather bursts to increase the humidity and cool things off a little... and just in time. It couldn't have been better timing if I ordered this day's micro-storm. Since the change of weather earlier in July, the garden revived, bringing forth a new bout of blossoms and fruit. Now we're adding to that some new mail ordered arrivals today that needed a bit of a cooler break-in to our climate.
The New Additions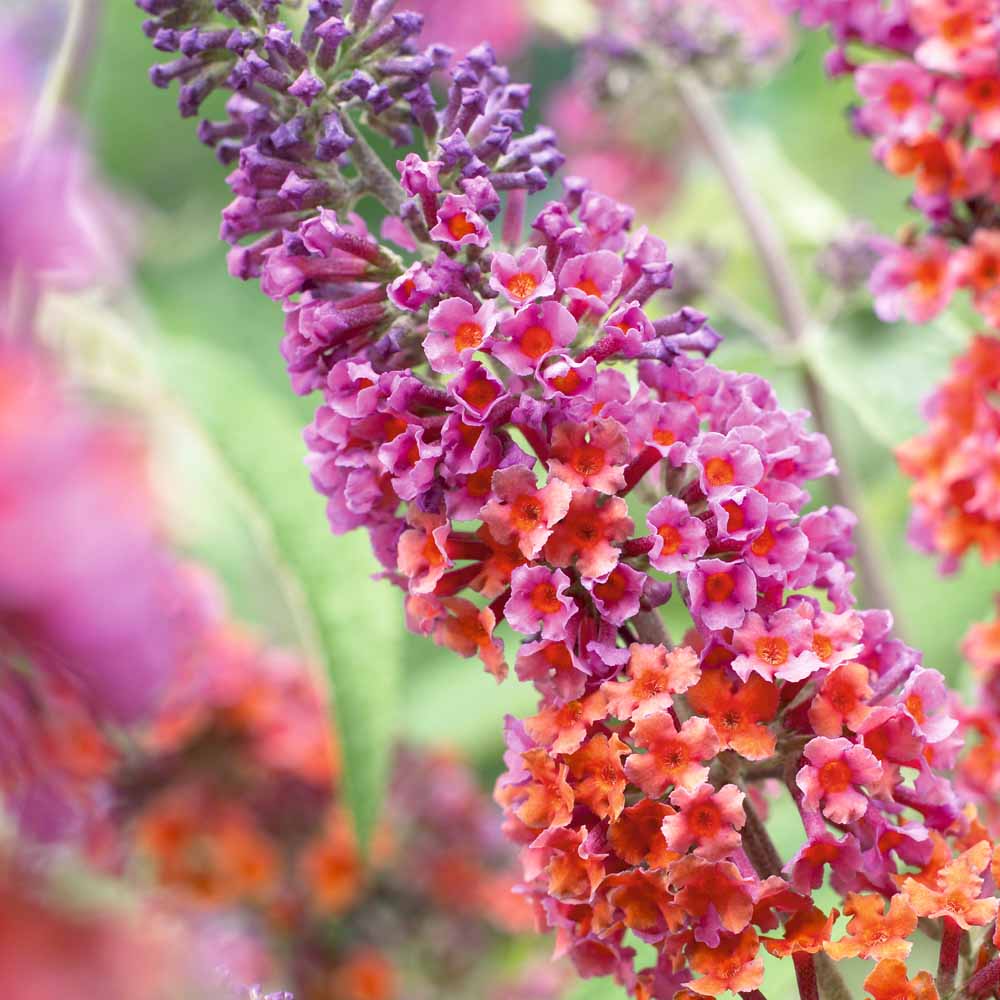 Buddleia x weyeriana 'Bicolor'
The things I wouldn't do for the nectar feeders... Since being adopted by the beehive and the antics of the territorial hummingbirds, I've become caught up in providing for our little nectar lovers. We increased the hummer feeders from one to two. The hummer feeders are not enough. For healthful, year round nectar supplies, we ordered a bi-color butterfly bush, botanically named Buddleia x weyeriana 'Bicolor'. I couldn't resist the change of color from butterscotch yellow to a nice rich lavender and hope to see them this fall. If we see the blooms in fall, we're sure to help see our pollinators through the cooler weather.
Buddleia x weyeriana 'Bicolor'
mail order plant
Of course, our new little plant doesn't look as grand as the pannicle image yet. Don't you just love this color? The
seller has 10 more available
... (I am not affiliated with this seller, I just like to give props when due; good price, good shipping and the plant arrived in good condition.) If anything goes wrong at this point, it's on me.
But, I didn't stop there. I also purchased two Wisteria Vines. These
Wisteria Sinensis, bare root
are good for the little nectar feeders, but really a selfish purchase for me. I've always wanted Wisteria, and two excuses piled up to make it plausible. Now that I'm delving into the bonsai foray, I can get these as long as the growth is managed with a dedicated pruning program. These poor little sticks of vines look more like shriveled little magic wands than the reputed tree smothering, prolific, house damaging vine. Even though they look withered, they're in good condition, as shown below.
Wisteria Sinensis, leaf bud
Signs Of Life, Signs Of Promise
The wisteria vines were shipped bare root in the dormant stage. Not sure how the seller pulled it off, but they did. (If you want wisteria,
buy them on ebay
) As far as bonsai goes, these are great starts. Little tiny straight stems grafted on a thick root stock.
Again, these arrived in good condition, and are coming out of dormancy, so any issues that crop up will likely be related to something I do or do not do... including if they become beautiful imperial size bonsai!
The burst of weather this evening, cooled everything off enough for me to plant the new arrivals in some planters, drop in some white dutch clover seed for living mulches, and water them down for an evening of low light acclamation to our hot, hot climate.
Hoping for the best!