A Dog Day Afternoon
It's official! The dogs have their own separate area with a gate that automatically swings shut! Woohoo! We finished the major work today and still have finish work to do.
Mr. Man is super handy and did a wonderful job with the design and all the hard work. We started out with plain steel tubes of various sizes and lengths, then Mr. Man set up the arbor, added the fence panels with the decorative knuckles and also included the circles to define the gate from the rest of the fence.
Finish work includes adding the stainless steel cables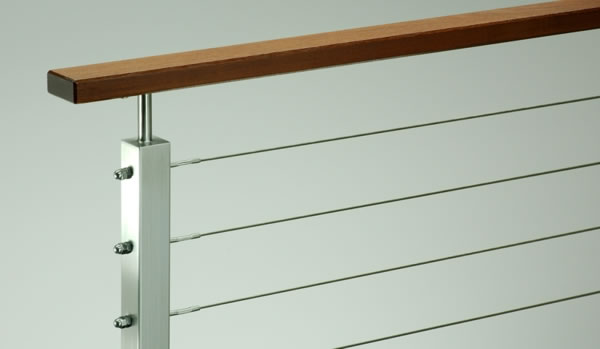 Steel cables typically used for
stair railings or balconies
between the posts for growing vines or veggies. The end result will be similar to the photo to the right. A new twist on an old concept. Our cables will be 8 inches apart for a total of three cables for vines above the easily visible fence line.
We are contemplating vines that will be good for the dogs, good for us and good for the bees, all while being able to survive our very hot temperatures and direct sunshine and/or dappled sunshine (before and after the Texas Ebony grows up).
Vines
HONEYSUCKLE:
We like the beauty, fragrance and sweetness offered by the Japanese Honeysuckle, also known as Halls Prolific.
EatTheWeeds
reports that Lonicera japonica 'Halliana' is a variety that is reasonably safe to eat:
It is the honeysuckle kids grew up with, picking the flowers for a taste of sweetness. Young leaves are edible boiled.
...
Nectar sucked off the ends of the flowers, young leaves boiled. In China leaves, buds and flowers are made into a tea but the tea may be toxic. Proceed carefully.
It is considered an invasive plant, but being on it's own little island of a trellis, it may be a great benefit, look gorgeous and
work well in our climate
. It should also attract hummingbirds.
JASMINE:
The second vine we like is jasmine for it's tea potential. But it must be Jasminum officinale. According to an
herbalist's site
:
...

Jasmine (Jasminum officinale) is a very widely known flowering shrub famous for its amazing beauty and mesmerizing aroma. This is one of the most characteristic herbal remedies of the Mediterranean region, which has been highly valued in folk medicines and used for numerous herbal preparation for many centuries.
While these both look quite similar, jasmine will probably not be as tolerant of the direct sunshine as the honeysuckle. Mr Man likes the honeysuckle more than the jasmine, so we'll probably plant honeysuckle on the trellis along with annual vines.
The honeysuckle flowers will attract the pollinators, look good year round and provide some coolness once established. Interplanting annual vines among the honeysuckle will ensure more pollination of our vertically grown vegetables and gourds and maintain a level of attractiveness while the annuals complete their life cycles.