Things Are Getting Creepy
Ficus pumila, or creeping fig on a wall.
We have a large expanse of a south facing block wall. We want to set up an espalier for fruit trees, but need to block out the reflective heat in the summer.
We had the problem: What is a fast growing, low profile, self adhering vertical climber that can tolerate acidic soil and is not toxic? The answer ended up being Ficus pumila, or creeping fig!
How Creeping Fig Grows
Creeping fig can be grown as either a ground cover or a vertical cover. The creeping fig grows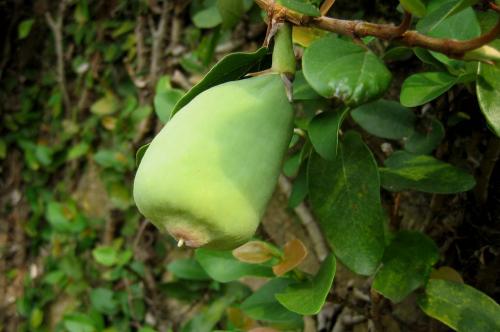 Ficus pumila, Creeping fig fruit
vertically without support because it puts out aerial roots that grab onto the structure it is covering.
That is, until it reaches the limit of it's vertical potential. When the creeper is done growing tall, it starts sprouting side shoots, which produce fruit.
Many sites will say that the ficus pumila fruit is toxic, but that is not true.
EatTheWeeds
has an article that details the preparation and consumption of the creeping fig fruit.
The Plan
Espalier apple tree
Creeping fig can tolerate an acid soil, so it should do well with fruit trees we want to set up on an espalier. We need to plant the vines when the weather finally cools down and the plants have a chance to cover the block wall before next summer. Then we need to plant our trees for espalier in the fall when the prices are cheap and the trees are in dormancy.
Come spring, the trees should bloom, leaf out and grow to provide some shade for the creeping fig as the temperature rises. In turn, the creeping fig reduces reflective heat during the blazing summers which should benefit the trees.
When the trees return to dormancy in the fall, the creeping fig will receive more sunshine in the cooler weather. At least, that's the plan. We're crossing our fingers!