Uppsala University Tropical GreenHouse
Create A Tropical Microclimate In The Desert
I started on this idea after watching a
GrowingAGreenerWorld
episode about four season gardening. The show was basically about the
FourSeasonFarm
ideas that allows the owners to grow salad year round in a cold climate (Best Selling Book
Here
).
The part of the show that caught my attention was the use of the
6 mil clear plastic sheeting
to effectively change the 'climate' 1.5 zones per sheet layer. We can pretty much grow salad any time of year here, with just a little planning (row covers).
For us, being in Zone 9b, we would only need one of the
plastic sheeting
layers to reduce the light a
Feedlot Panel GreenHouse
bit ( by about 10%), in winter, throw over some shade cloth for summer and fog system year round managed by OpenSprinkler to gain our Zone 10/11 climate if no pond was inside the greenhouse.
The frame is pretty much a simple set up. Some people use
feedlot panels
. The feedlot panels can be set up and taken down/stored flat really easily and not take much space. This would be especially great for people who had tiny homes and moved around but needed to have their green house with them.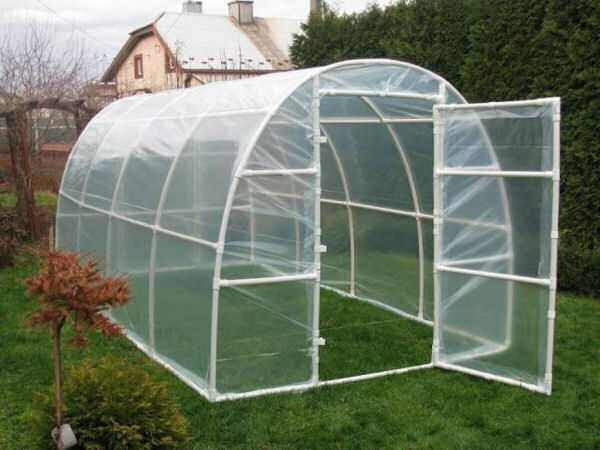 PVC GreenHouse
Some people make pvc frames. PVC frames are more easily customized and the pipes can be used to house the fog emitters without taking up any more interior space.
Mother Earth News
has some info on plans to make a pvc greenhouse.
PVC green houses would probably be more year round type structures. If we did something like this, we would want a smaller version and would put some wheels on it.
For a no fuss, small space green house, getting one already made
may be the answer. Time is money, after all. There is a really cute one I was tempted by on Amazon.com, but it may not be big enough for our needs and we're still debating the idea.
For our solution, which we have not determined yet, we need to increase by a zone or two. Keep plants more moist and increase the ambient humidity. We don't have a huge amount of space and have not completed the backyard overall design, so there is little detail on what we can do yet, but no harm in thinking about it.
If anyone else has experience with this, we'd love to get some insight and feedback on it.