Lavender & Lemon 'Kick Brass' Bars
Good Clean Fun
This year, we decided to make some cold process soaps for gift giving. These soaps can be $4 - $7 per bar. We made some good size recipes rendering 24 bars each which will be more than enough to share and plenty to keep for ourselves.
Recipes were found on humblebeeandme.com, soapqueen.com and modernsoapmaking.com. Changes were made here and there to make them our own.
Our Xmas list is: Kick Brass shampoo bar, Baby Bar (for human and hound), Minty Scrubby
Chocolate Orange Soap Bars - Smell Like The Real Thing!
Gardening Bar, Four Thieves Castile, and Chocolate Orange.
We have so many things going on, the last thing we needed was another project for making the molds for the soap and we didn't want to buy special tools, outside of the soap ingredients. We used:
12 x 4 inch boxes, bought on Amazon.com, here. These are the soap molds.
Stick Blender, can be found on Amazon.com here. We bought ours from Costco Business - stainless steel recommended.
Digital scale for measuring. Soap ingredients are always measured by weight, not cup or spoon measurements. Stainless steel recommended, as on Amazon.com here.
Double Boiler, can be found on Amazon.com here. We bought ours from Costco business.
Bamboo cheese slicer, can be found on Amazon.com here. This will make straight cuts down the soap loaf.
Cheese plane to shave the sides and edges, can be found on Amazon.com here. The corners were shaved off pretty nicely!
Parchment paper for protecting the cardboard. Recommend buying at a local grocery.
Lye calculator. Many apps available for phones and such, but I use SoapCalc, here. It's free!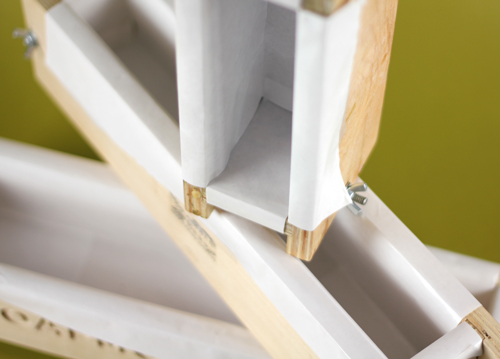 Standard Soap Mold Lining
We made the Kick Brass and the Chocolate Orange bars using the standard lining method provided on the SoapQueen.com web site (
here
). This method left gaps in the corners, which leaked into the boxes.
I agree with SoapQueen.com. Lining soap molds pretty much sucks! I decided to try another method.
To keep things cleaner, finesse the soap corners and because I would rather 'eyeball' the measurements, I decided to line the mold in kind of a gift-wrapping technique, explained below. If the mold is more production style and really large, this probably will not work for you.
Determine the size of the soap mold and then estimate the amount of 'gift wrapping' it would take to cover the ends and bottom of the package. The box was set up with the flaps removed from the top, and two end flaps and one side flap removed. Then the remaining side flap was folded and taped across the bottom to form a very square soap mold.
Easy view of how much is needed
One of the side flaps was reserved for eyeballing how much parchment paper is needed. The remaining is shredded and thrown in the compost bin (earthworms seem to like paper and cardboard).
Because the parchment probably was not sheared at a 90 degree angle, the flap was aligned with the sides of the parchment to guess at a straight fold. Everything from here on out will be easy angles, not a difficult process.
It's Origami Time
This felt a bit like gift wrapping, but more like origami, as there was no 3d guidebox on the inside. A series of creases were made, following the shape of the box flap to clearly define the bottom of the soap mold.
Side Creases Using Box Flap For Straight Lines
Side Creases Formed and Well Defined
Ends Folded Over Based On Box Flap Size, Well Defined
Folding the End/Side 45 Degrees For Squared End
Both End/Sides Folded 45 Degrees (Like Gift-Wrapping!)
Both Ends Folded And Stapled
Finished Lining In Box! No Openings!
Baby Bar Loaf and Minty Scrubby Loaves