Bearss Lime Fruit Starts
More Variety In The Yarden
Our citrus trees have blossomed and have a bunch of little fruit sets. Most will be dropped by the trees within 30 days, then we can leave the rest and see what we get.
We currently have Bearss Lime,
Finger Limes
, Meyers Lemons, and some type of orange trees. They all taste pretty good when they make it to the winter.
We don't have diaries for the citrus trees other than the
Finger Lime Fruit Start
finger limes as we are planning to put the lemon, bearss lime and orange trees in the ground eventually.
The Finger Limes don't seem to taste much different than other limes as I remember. However the interesting thing about them is the shape of the pulp and how that makes them useful in ways that other citrus pulp is not.
We currently have some white/yellow honeysuckle growing on the dog run fence and arbor. We have some purple honeysuckle on the way (from
WellspringGardens
) to get a little variety in the color as well.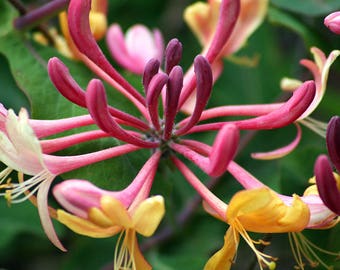 Lonicera Japonica 'Purpurea'
With the white and yellow of the regular variety and the white, yellow, pink and purple of the purple variety, it should make a nice fade in color variation and cover the fencing quickly. This should also be great for our bees. We need to keep them deep in pollen.
We don't keep any diaries on the honeysuckle, but will probably take shots and make updates on posts here and there.
Hardy Kiwi Issai
Being greedy, we added a third type of Kiwi plant that will be updated on the
Kiwi
page. I'm not really sure why, as the Ken's red is growing aggressively and is a bit scary because of how fast it grows.
The new addition is Issai, which makes small green fruits in a very short period of time and is self-pollinating, so we only need one plant this time.
For some more tantilizing scent-sational plants we have a Bay
Bay Rum Tree
Rum tree on order that will probably be added to a topiary or bonsai diary, depending on the looks. Our daughter in law will be making some essential oils and may be able to use some of this plant when she gets her still going. To be honest, making essential oils of my own is piquing my interest.
A couple of these plants will be put in the greenhouse, which is now
Greenhouse Sensor Module
set up for monitoring with our ZWave Home Genie system.
Mr. Man has found a humidity, light, temperature, and motion sensor that we put in the greenhouse to help make sure everything is 'just right' for our little hot-house babies. This will help quite a bit with the plant management and deciphering any issues that may come up.