Sicilian Sunshine Bay Laurel Tree
Sicilian Sunshine Bay Laurel Tree
I found a YouTube video that talked about adding some dry bay leaves to a jar of home dried figs to prevent bugs. Just one more reason to finally get the very interesting Sicilian Sunshine Bay Laurel tree. I checked on Bay Leaf bug repelling properties, and this is what I found:
"The bitter plant is often used for it's fragrance in cooking, but, bugs hate the scent. You can use bay leaves to repel flies, moths, mice, earwigs and roaches. It doesn't even matter if you don't have fresh bay leaf plants, you can use dried bay leaves to get the same results!"
~
Natural Living Ideas
Lets Get Growin
SUN: Afternoon shade
WATER: Water Regularly
SOIL PH: 6.0-7.0
FERTILIZER: Feed container grown bay in the spring and maybe again mid-summer, with a balanced organic fertilizer like fish emulsion and kelp.
Sicilian Sunshine Bay Laurel And Lemon Thyme
October 29, 2017 - Coming Back
The weather is cooling off and the poor little bay tree twins are recovering from some major burns over the summer.
The lemon thyme is doing well, which is a great relief. I'm not sure why it is difficult to grow, but it hung on over the summer and seems to be picking up now. There are some little leaf buds getting ready to grow here and hopefully the frost won't be an issue.
The second bay twin has the Corsican mint partner, which is just adorable. The avocado and basil overshadowed the pair, which was a problem for the mint, but the bay tree didn't seem to mind the protection from direct sun.
Maybe after some new growth is put on before the next heat wave the trees will fare better.
August 23, 2017 - Poor Trees
Sicilian Sunshine Bay Laurel Tree With Corsican Mint
I tried to keep the bay trees happy this summer. The tender little leaves got burnt up and there hasn't been a lot of growing going on.
The sunburned leaves are a nice rust color. That is about the best I can say about it. I tried cutting off the tall sprout and grow it, but the cutting failed (probably due to impatience). Now the bay tree with corsican mint is just about the same, maybe a few less leaves and not as sprightly looking.
On the other hand, the other bay tree, which also got burned pretty well, is putting out some new growth late in the season.
Sicilian Sunshine Bay Laurel Tree
With Lemon Thyme
These trees are known to be slow growing. This is why we have two. We may have to get a few more that are the plain old bay laurel trees for a little variation and enough bay leaves to cook and store with.
Sicilian Sunshine Bay Laurel Tree - New One
April 23, 2017 - Twin Trees!
The old tree and the new tree look pretty similar and both are putting out a lot of the bright foliage which looks very nice.
The new tree looks to be larger than the older tree, in fact. We will need to work on making the shape more similar between the two,which will probably mean lopping off the top branch sticking way out on the new tree.
This would be the best time to take a
softwood cutting
for propagation of this tree. We won't need three, so we will probably give this to my son and his fiancee for their own food forest.
The time for pruning Bay trees is
late spring
, which
Sicilian Sunshine Bay Laurel Tree
Old One
is The end of April and May. Topiary training is recommended to be completed during successive runs at the topiary shape.
When looking at both trees, it is pretty easy to see the similarity in growth and shape and where the new one needs to be trimmed off in order to make them more twin-like. The palici of the shade house/green house.
Sicilian Sunshine Bay Laurel Tree
April 12, 2017 - Replacement Arrived.
We gave up the ghost on the failing bay tree and received the replacement today.
Out with the old, and in with the new... We have the Palici pair on either side of the greenhouse doorway now. The replacement tree seems to be larger than the tree we've had for several months. I guess timing is everything!
April 2, 2017 - Just As Advertised
Sicilian Sunshine Bay Laurel Tree
We have a new mess of growth on one of the basil trees and it looks just as advertised! So pretty!
Sicilian Sunshine Bay
Laurel Tree - Outside
March 25, 2017 - Differences Make A Difference
One Palici was planted outside in a pot and overwintered with the citrus trees and one was left indoors with the tropical plants. Outside Palici looks great, getting new and gorgeous yellow leaves and the inside Palici looks pretty bad.
Sicilian Sunshine Bay
Laurel Tree - Inside
We are going to keep both of the bay trees outside from here
on out, in similar ceramic pots. Still looking for a final, good looking pot that will compliment the bay tree shoots.
Sicilian Sunshine Bay
Laurel Tree - Outside
The new leaves do come in as a bright yellow with the red stems that are in great contrast to the dark green mature leaves. I'm interested in planter pots that will reflect the colors of the new growth.
There is much more new growth on the outside Palici tree than on the inside Palici tree. These Bay trees benefit from a natural source of sunlight and well draining soil - not the constantly moist and humid environment that benefited the tropical plants. It was a good theory to test out. Mediterranean and Tropical do not mix.
Sicilian Sunshine Bay Laurel Tree 'Palici'
March 6, 2017 - New Leaf Buds
We now have two Sicilian Sunshine Bay trees. For some reason, I had to have a pair of them. One has been inside during the winter and the other has been outside. They both look about the same.
The indoor tree was accessible and is showing some new leaf buds for growing this spring. Now I need some twin topiary containers that will look really nice with the lovely color variations of the trees.
October 22, 2016 - Nice Coloration
Sicilian Sunshine
Bay Laurel Tree 'Palici'
Today the leaves have grown and the coloration is just as advertised. Enjoying this and knowing how much we could use fresh bay,
another was ordered
.
These trees will be collectively referred to as the
Palici
. We probably will not be able to tell them apart in the future, once set up and grown out in twin semi-formal topiary pots.
Sicilian Sunshine Bay Laurel Tree
2016-09-24 New Growth
Happy to say the bay laurel tree is growing pretty well in the window sill at this time. We haven't moved this one to a larger container yet. We keep it in a small mason jar to catch water drainage. It must like it, we have the new growth, which has the red stems and the colorful leaves.
Sicilian Sunshine Bay Laurel Growth
It's hard to tell from the first photo, because the growth is at the bottom of the plant. It seems to want to bush out more than grow vertically right now. I like that the growth will be filling in a sparse area, so I'm leaving this new growth where it is.
For topiary training, we will be pinching off new growth where it is undesirable. Then clip off a couple of leaves here and there as needed for cooking. Currently we have plenty of dried bay leaves to keep us going while the plant matures enough to not miss our pickings.
Bay Tree Pyramid
2016-09-11 Decision Made
After much review, I decided on a very nice pyramid shape for the Bay tree. I love the color of the planter in this picture found. It looks gorgeous with the dark green leaves and the narrow tapering of the bay tree.
I'm not sure about the color of the planter if the new growth shows up so brightly as the advertisement photograph. This will be coupled with some rosemary topiaries as well, so everything should end up looking nice together. Rosemary looks really pretty in terra cotta planters, but terra cotta is not recommended for Bay Trees. The planters will definitely be some type of SIP, maybe one of our own design and coloring. We've been dabbling around with making cement/hypertufa planters with added coloring.
Sicilian Sunshine Bay Laurel Tree

2016-09-10 The Tree Arrived
So, we like the evergreens, I like the unusual, and we use bay leaves in cooking. That made the Sicilian Sunshine a great option. We purchased ours through
Amazon.com
, Hirts Garden. USDA zones 8-10.
The plant arrived in great condition. Yes, the leaves are green... only the new growth has the red stems and flame yellow leaves, so we must be patient.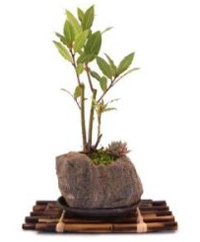 Bay Tree Bonsai
I went with a tree, because the one time I tried growing a bay tree from seed, the seed rotted before it ever sprouted. For me,
transplants and cuttings
are the way to go for Bay trees.
If we cooked more, we could probably get away with a cute little
Bay Tree Topiaries, Pyramid Shape
bonsai like the one on the left, because we would be constantly picking all the leaves off.
I really REALLY like the bay tree topiaries. Maybe I should start another area for topiary trees and move this one into that classification. A permanent Christmas tree, of sorts... What do you think?