Synsepalum dulcificum, Miracle Berry
Diary of Miracle Berry Topiary
After securing the
yellow mangosteen
, buying a miracle berry plant was in order to help cut the tartness of the mangosteen fruit.
Not sure where to put this, it is going in topiary blogs as it is not a real food source and not an herb. It is more like a novelty party trick and having it on hand could be a source of fun... but can be grown in a pyramid topiary form.
And yet some tricks are quite useful... I found out these berries help people receiving chemotherapy treatment in overcoming distaste for eating:
"Miracle fruit is not a fad. It doesn't cure cancer or even help prevent cancer," Erik Tietig said. "But what it does do is help alleviate terrible symptoms of chemotherapy in a very real and a very immediate way." ~ Chicago Tribune
The max size of these bushes is 18' in the wild, but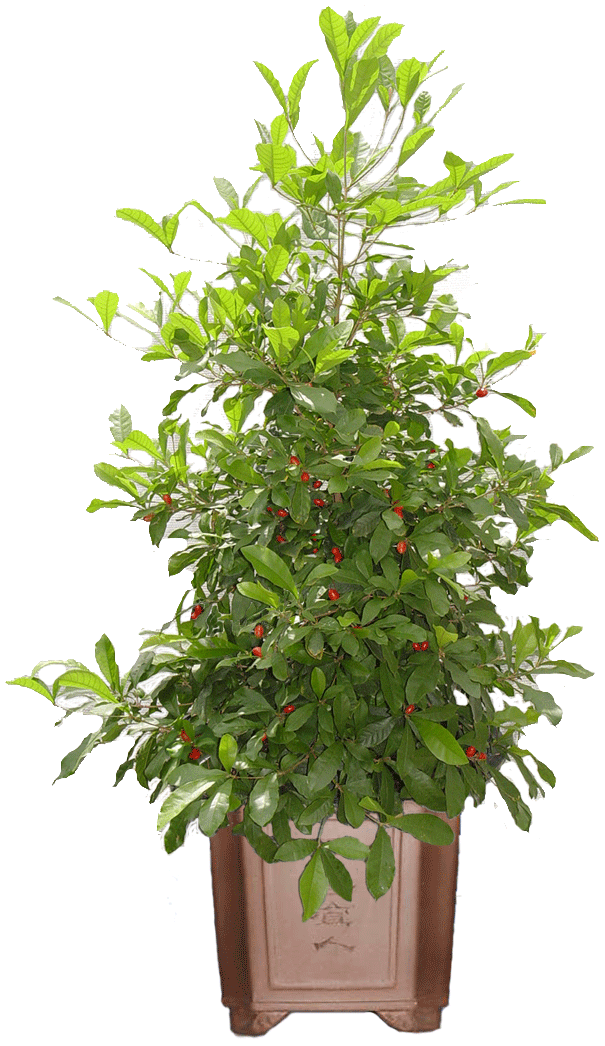 Miracle Fruit Topiary
probably not more than
5' tall in a planter
. And speaking of planters, this is a candidate for a planter because it has zero frost tolerance.
This plant requires the same acidity as blueberry plants. When re-potting, only go up
2" in size each time
. As with many other plants, size matters so this plant will start producing when about 1.5 feet tall.
Lets Get Growin
SUN: Filtered
WATER: Water Regularly
SOIL PH: 4.5-6.0
FERTILIZER: Moderate amounts of fertilizer once a month. Use a dilute solution (1/4 to 1/8 of the label requirement) and only fertilize the plant when the soil is already moist. Never fertilize Miracle Berry when the soil is dry.
Synsepalum dulcificum, Miracle Berry
2017-October 29, 2017
Okay, so.. not much of a looker at this time, but hanging in there. Once the miracle berry was put into a larger planter with coconut coir and azalea mix things picked up.
Prior to that, things looked a bit grim. It seems to be tolerating the environment well enough at this time. Must prepare for winter though.