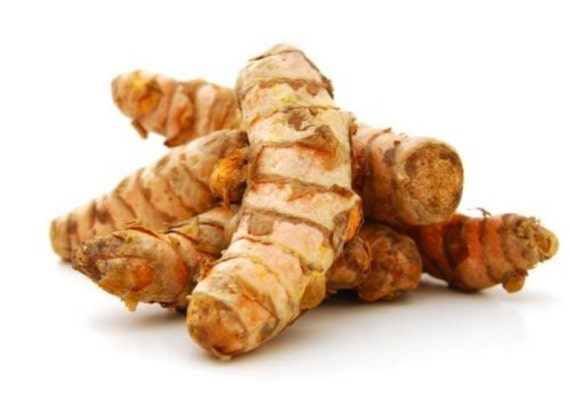 Curcuma Longa Golden Turmeric Rhizomes
Growing Golden Turmeric In The home Garden

A hot topic for home medicine is turmeric. Specifically a golden turmeric. I purchased a few fingers of this segmented yam-colored rhizome from

HiHerb

Etsy Shop October 4, 2016.

The golden turmeric is a great addition to the herb garden. It can get quite tall and a lovely shade of green.
August 5, 2017
Curcuma Longa Leaves
As it turns out, turmeric is a bit finicky for me to get started. The first set of rhizomes failed. I guess I ended up watering it too much or something. It rotted and died. In the search for more turmeric with better results, I found an
amazon seller
that shipped these rhizomes faster and for a much better price.
Because these take so long, we added some apollo spinach seeds and let them sprout. They are growing slowly. And all the little green leaves all over the place disguised the turmeric leaves until I noticed some that were oddly larger than all the other apollo spinach leaves. Viola! Turmeric! I can grow turmeric! Hooray!
February, 2017
The package arrived October 25, 2016. The rhizomes were planted about 4" deep in potting soil within a well drained terra cotta pot. Each time the window seedlings were watered, water was dropped down on the turmeric pot as well.
Curcuma Longa Sprout
Watering dirt for several months can be kind of discouraging. Perseverance is a must in this situation. Speeding along this process to today, February 11, 2017 we have a one inch tall sprout.
I'm not sure what's going on under the soil at this time, but will have to wait and see after gaining some really nice foliage and after it dies back as shown by
GrowerJim
.
It is also possible to grow turmeric in water for starters just to get a jolt of confidence that you do in fact have a viable plant, as shown by
SimplyOrganicRecipes
.
We are growing the turmeric described here, ginger (in the works) and galangal (in the works) indoors in terra cotta planters as suggested by
SFGate
. These should all make some very attractive and fragrant house plants.