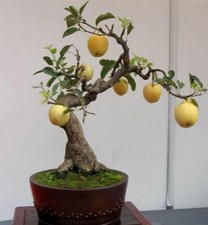 Pyrus pyrifolia Bonsai
Pear Bonsai Diaries
This is a bit of a departure from the other bonsai, as we will probably grow full size espalier style trees as well as a few bonsai size trees from seeds.
We decided to grow these from seed after learning the Asian pears grow
true from seed
following a two month cold stratification period. These are zone 9 approved.
Once we learned that, we also found out the Bartlett pears are
just as easily germinated
. Bartlett pears may not do much in our zone.
Growing fruits from trees actually applies to just about any store bought fruits. Great instructions are at
grandpappy.org
. Now it will only be another four to six years after sprouting before we can enjoy some of this awesome fruit!
Let's Get Growin
December 3, 2018 - Unknown Asian Pear Is Doing Well!
Asian Pear

Our Asian pear has done so well it was planted in ground. It managed to grow well, overcome a weak period and start another branch, pillar style.
We have two more seedlings, but didn't take any photos. So, here is a poem instead :D
beneath the pear tree; i hope to see you there.
in the puddle beneath the pear tree
I watched the galaxy weave its web
and my fingers could tug it's strings,
like a pianist at the keys,
tugging at infinite light and sound
pulling me closer to this eternal truth.
guiding me through the endless paths
and showing me the difference
between those
and rabbit holes,
folding into folds,
unfolding into new,
you whispered in the night, "i'm here".
but I couldn't find you in the sunrise
or in the field I cleared for you.
Asian Pear Seedling 1
August 5, 2017 - Two Seedlings and Some Sprouts
Interesting story. These Asian pear seedlings are in the same type of planter, the same clover companions and get watered on the same schedule.
However, we have a tall seedling and a short seedling. The short seedling seems to be greener and healthier, while the taller seedling has some yellowing leaves and some black spots on a couple of leaves. I'm not sure why
black spot
would affect one plant and not the other.... They are so close. :/
The shorter one seems to have been getting smothered by the clover that surrounded it. We recently moved them out of the way, so perhaps the clover protected the leaves from this black spot during the monsoon rains.
Asian pear Seedling 2
In any case, we will eventually have to add another type of asian pear or try grafting scions on to these so that we can get cross pollination going.
Since these went well, we decided to stratify some other pear seeds for our climate and a cooler climate for some Northern property. We have Bartlett and d'Anju getting started, although the d'Anju don't seem to be taking off as well as the Bartletts so far.
Pink Lady Apple, Bartlett and d'Anju Pear Seedlings

Even if the trees don't produce fruit, they make some great looking espalier trees with lovely white flowers all over in spring.







May 13, 2017 - Two Nice Looking Seedlings Left
Asian Pear Seedlings
Of all the little seedling sprouts, two are doing really well.
They were repotted today to some slightly larger pots. In the process the roots were sprinkled with mykos. The roots looked really good and healthy. Spreading out better than the apple roots.
Asian Pear Seedlings
April 12, 2017 - Cute Little Seedlings
Grabbed up a snapshot of the little pear seedlings this morning.
Many of the seedlings are getting their first true leaves. Luckily these survived a wind turbulence accident that upended the egg trays and landed the seedlings on their heads. One broke in half,but all seem to be doing well at this point.
Williams Bartlett Pear
April 1, 2017 - No Joke - Williams Bartlett Pear Seeds Germinating
Well, maybe a little bit of a put on... We're not sure what type of pears we're germinating, but they look very much like these. These would be European type pears which are a little different from the Asian types of pears. Mr. Man enjoys them both and so do I as long as they aren't really grainy.
We will check in on the germination progress June 1, 2017 to see of two months stratification is sufficient.
European low chill pears for scion selection:
Kieffer Pear
Medium to large late season fruit for canning and cooking.
Sprightly flavor, coarse texture.
Resists fire blight, tolerates hot climates.
Dependable crops.
200-300 hours.
Self-fruitful.
Hood Pear
Very low chilling requirement
Interfruitful with Flordahome.
Large, early season fruit has yellow-green skin
Sweet, mild-flavored flesh.
Reported to be highly resistant to fire blight.
100-200 hours.
Flordahome Pear
Low-chill pear from Florida.
Very nice quality: sweet, smooth-textured, juicy, flavorful.
Harvest July/August .
Chilling requirement less than 400 hours.
Partly self-fruitful.
Orient Pear
Fire blight resistant.
Beautiful, large, nearly round fruits with shiny yellow skin and red blush.
Flesh firm and juicy with mild flavor, used mainly for canning.
Large, vigorous tree.
350 hours.
Interfruitful with Kieffer and Moonglow.
March 31, 2017 - List of Asian Pears For Low Chill Scion Selection
We try to shoot for 200 chill hours or less here. Surprisingly, for
historical data
we get between 300 to 500 chill hours during a year. That is pretty good news.
Tennosui Asian Pear
Assumed to be a chance cross of TENN (also known as Tennessee pear) and Hosui pear.
Crisp, bell-shaped fruit
Matures late July to Early August
Very productive.
150-450 hrs.
Self-fruitful.
Shinseiki Asian Pear
Juicy, sweet, refreshing, crisp like an apple. Easy to grow. Keeps well.
Harvest late July/early August
Bright yellow skin.
Vigorous, heavy bearing (usually by 2nd year).
250-300 hours.
Self-fruitful.
Tsu Li (Chinese) Asian Pear
Early bloom
Pollenizer for Ya Li in warm winter climates.
Juicy, crisp, greenish-yellow pear-shaped fruit.
Vigorous tree.
Harvest in September with Ya Li.
300 hours. Pollenized by Ya Li.
Ya Li (Chinese) Asian Pear
High quality greenish-yellow, pear-shaped fruit is juicy, sweet, refreshing, crisp like an apple when ripe.
Vigorous tree.
Harvest in September
300 hours.
Pollenized by Tsu Li.
Pear Sprouts
March 28, 2017 Seeds Stratified And Sprouted
We forgot about the pear seeds and checked on them this last weekend. We have no idea what type they are except they are billed as 'apple pears' by Costco.
It could be any
number of pear trees
, that have round bronze colored fruits that are shaped like apples and have a nice crisp texture.
No matter what type of Asian Pear these are, they may possibly produce fruit in four years, but probably more quickly if scions are grafted. Also, for variety we can graft scions for other types of pear trees. This could be especially interesting in the
espalier
when different branches on the flat plane are blossoming and fruiting at different times of year.
Asian Pear Esplier
I'm not sure how many we will keep for espalier,but one will definitely be a bonsai tree. If we ever move, we can't let all this work go to waste!
October 21, 2016 Fruits purchased
Not much to say here, so this will be the only entry until after we have sprouts. The seeds were wrapped up in a damp paper towel and left in the crisper...
Something to keep in mind is the cross pollination chart for asian pears. We will need to suss out the type of tree we have (maybe) and then find some compatible or even self-pollinating scions.

HANDY CHART